As you may have noticed, 350 Tacoma had an action packed year. We continued to fight against fossil fuel expansion, got a fabulous new office, were able to support the Sunrise Movement and work with our indigenous allies in meaningful ways, and so much more. This was all done by our fabulous volunteers (we are still all-volunteer run) and made possible by our generous supporters and allies.
Keep it in the ground
Maintained pressure against the LNG facility
Helped turn out hundreds of people to both Puget Sound Clean Air Agency permitting hearings.
1600 letters sent to PSCAA about denying the permit.
Continued advocacy for stronger interim regulations
Pressured Inslee on LNG with bannering, flyer actions, and letter and post card campaigns.
Over a dozen LNG bannering sessions, with amazing volunteers, willing to stand in the cold during rush hour helped educate the public by holding signage. Thank you Awesome Humans!
Thanks to all the crews who showed up to do public outreach and community education through bannering and flyering at street fairs and farmers markets, educating the community on LNG/fracked gas and fossil fuels in our port.
Walked with the Protectors of the Salish Sea and supported their rallies calling on Governor Inslee to declare a climate emergency.
The Little Marsh – qʷiqʷəlut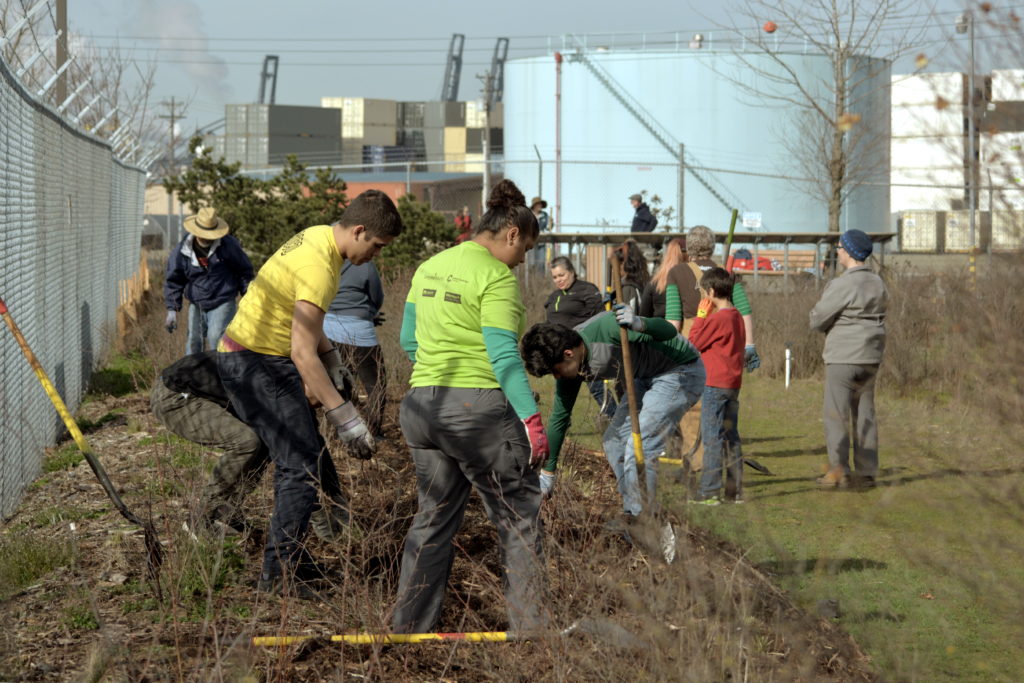 Continued into our second year of stewardship of a small salt marsh in the Tacoma Tideflats, in collaboration with EarthCorps and City of Tacoma.
Successfully petitioned the City of Tacoma to restore a native Twulshootseed place name: qʷiqʷəlut (little marsh). The site is no longer known for the French chemical company that polluted the site.
Dozens of volunteers and 100's of volunteer hours were spent tending the land and removing invasive species.
Planted nearly 200 native plants this past fall.
311 Puyallup Avenue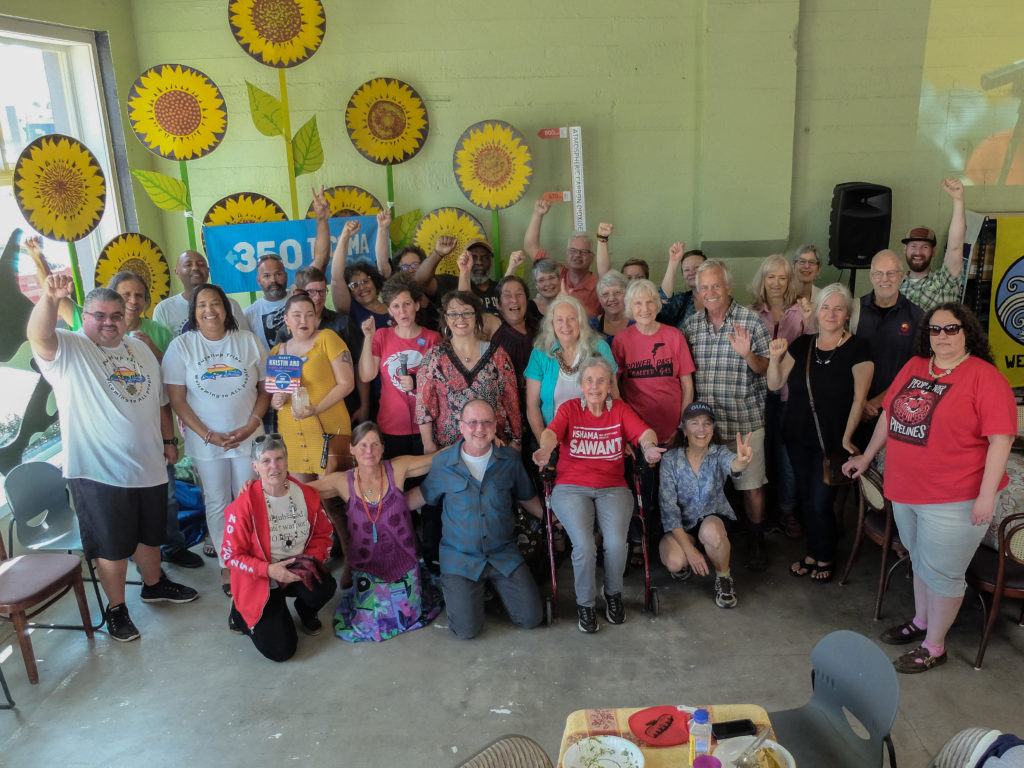 Thank you to all the hands, visible and invisible, that have made possible all the vital and beautiful work taking place here.
Since moving into our new community space we have been able to host general meetings, art builds, work groups, and coalition meetings with relative ease!
We can now support our coalitions, indigenous and youth allies, and regional organizing by providing access to office and meeting space.
We have been honored to work with Puyallup Water Warriors, Protectors of the Salish Sea, and Sunrise Washington with event support, art builds, and meeting space!
Outreach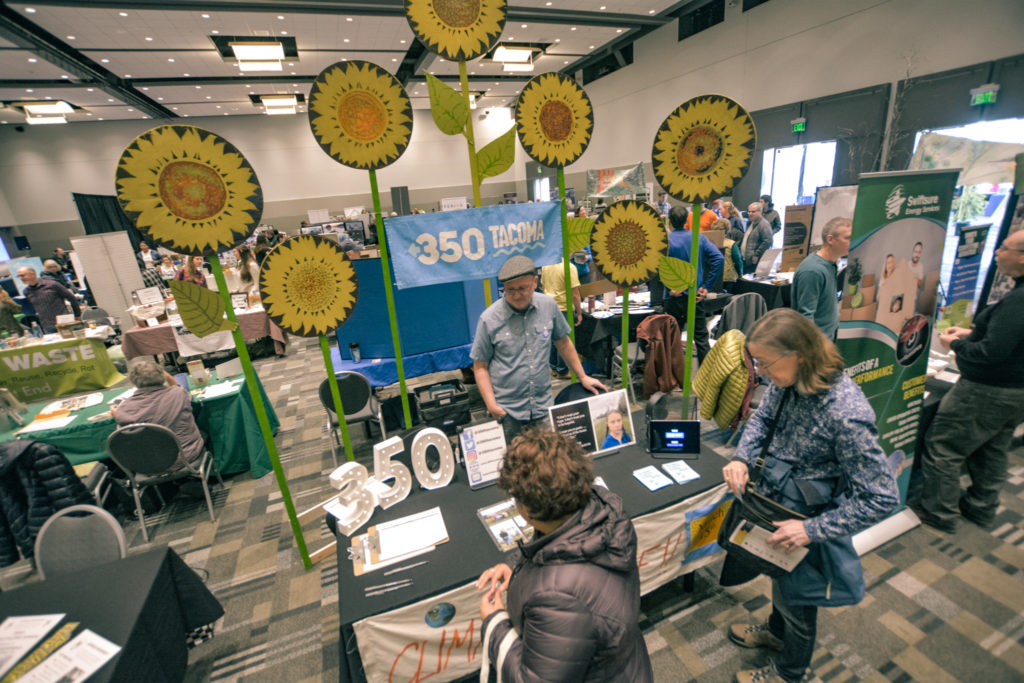 Thanks to the many community members who were excited about outreach this year!
2019 saw an increase in tabling events—from one in 2018, to a sustained community presence throughout the. We tabled at Sustainability Expo, Pride, Fircrest Earth Day, Jason Lee Solar Fest, UPS's "This Day: Our Environment" event, and several local street fairs!
We were asked to present on LNG to various groups throughout the community. We presented and participated in panel discussions at local churches, Indivisible Tacoma, the Pierce County Dems, at multiple events at UPS and elsewhere, including an invitation to host the post-film discussions for "Anthropocene."
Held "letters to the editor" workshop in which people got published.
Hosted 3 public card making workshops to encourage and facilitate community members to engage with their elected leaders. Special focus on "our green governor" and the attorney general.
Social Media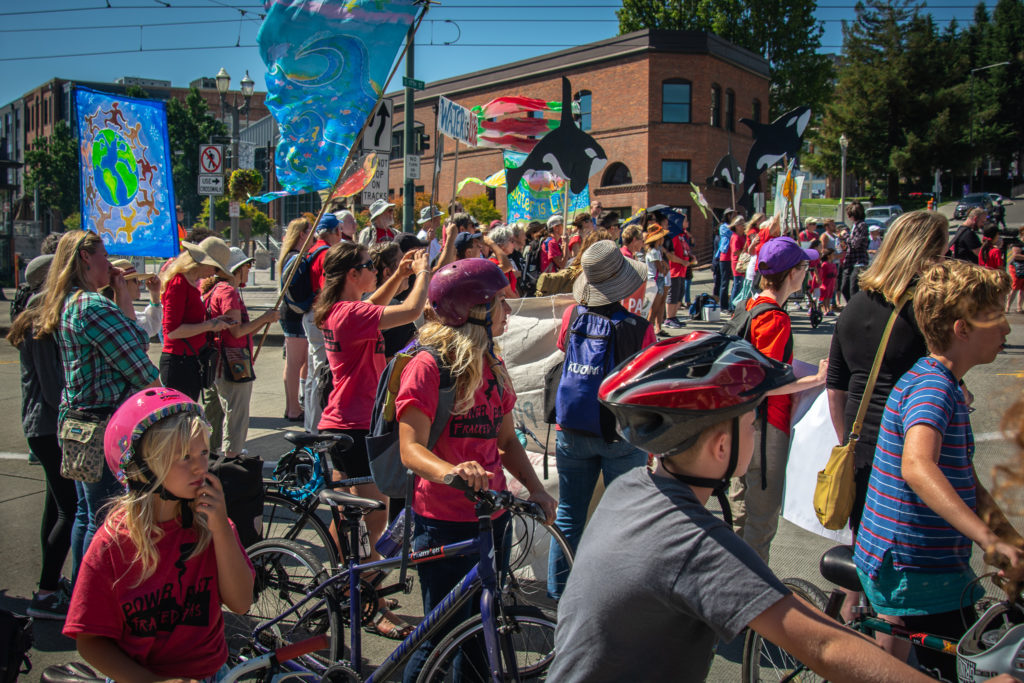 Grew our total Facebook, Twitter and Instagram following from 2,600 to nearly 4,700 over the course of the year.
Created thousands of posts on social media to raise awareness and inspire action.
Grew our email list from 2,300 to 3,400 activists.
Produced 18 original online videos.
Moved our website to a new host and began redesigning it.
Artful Activism
Co-hosted a regional "Art Storm" event to share skills in artful action regionally, in support of Climate Strike. It was an Awesome Day!! Thanks to everyone who made it happen.
Began partnering with UWT's Art Bridging Communities.
Hosted community workshops Extreme Makeover: Reimagining the Port of Tacoma Free of Fossil Fuels .
Other collaborations with ABC are in the works for January and beyond …
Hosted numerous banner, sign, and poster making parties, often in collaboration with other groups, supporting a variety of actions/events.
Hosted our first guest artist in illuminated puppetry, followed by three months of community workshops birthing a collective of illuminated insects, because insects are on the decline—quite radically especially in northern latitudes.
In 2019, we came together and collectively recognized a need to grieve the changing climate. In 2020 we will continue to host those questions.
Held a Funeral for Bugs with eulogy, illuminated procession, bagpipes and singing
Began regularly singing together.
Climate Strike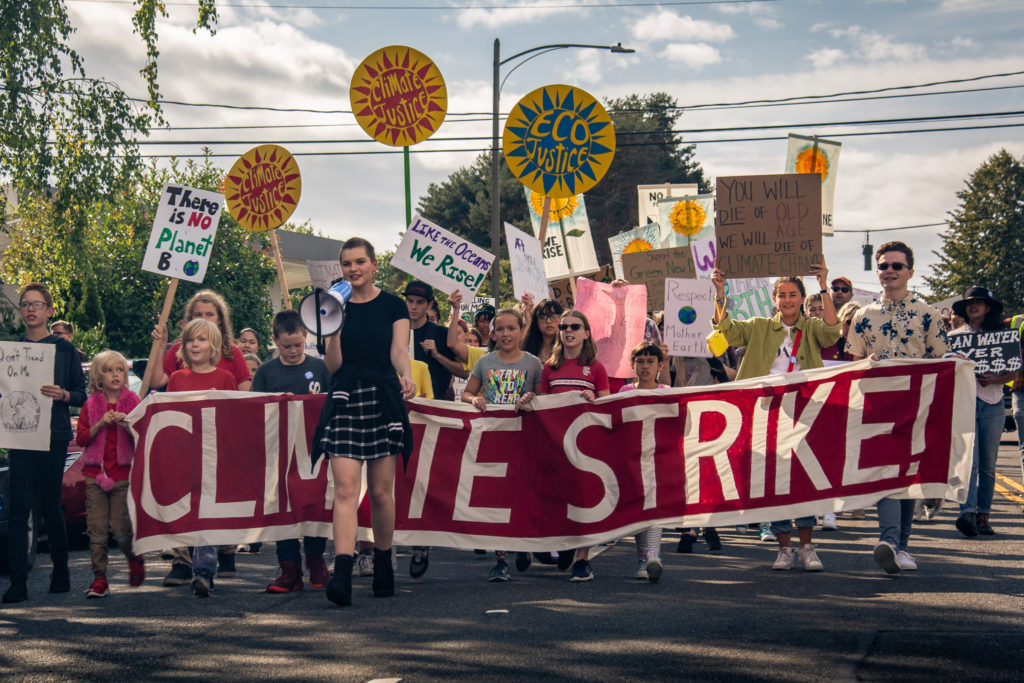 March Climate Strike

Supported the youth led event with volunteers, logistics, and social media support. Expected 50 people. Over 150 people attended.

September Climate Strike

Hosted Art Storm to help regional communities organize
Supported Sunrise with space, and art making needs, volunteer mobilization and organizing/logistical on request.
Hosted Protectors of the Salish Sea with space and art making.
Coordinated adult volunteers for the People's Park rally. Over 600 people attended.
Hosted "Wake to Extinction" event
Supported Sunrise Movement in convincing the city to pass a climate emergency resolution in December, a direct response to the youth demands from September!

December Climate Strike

Supported the youth led event with organizing space and art making space, and day of volunteer support. Over 400 people attended.
Train Spotting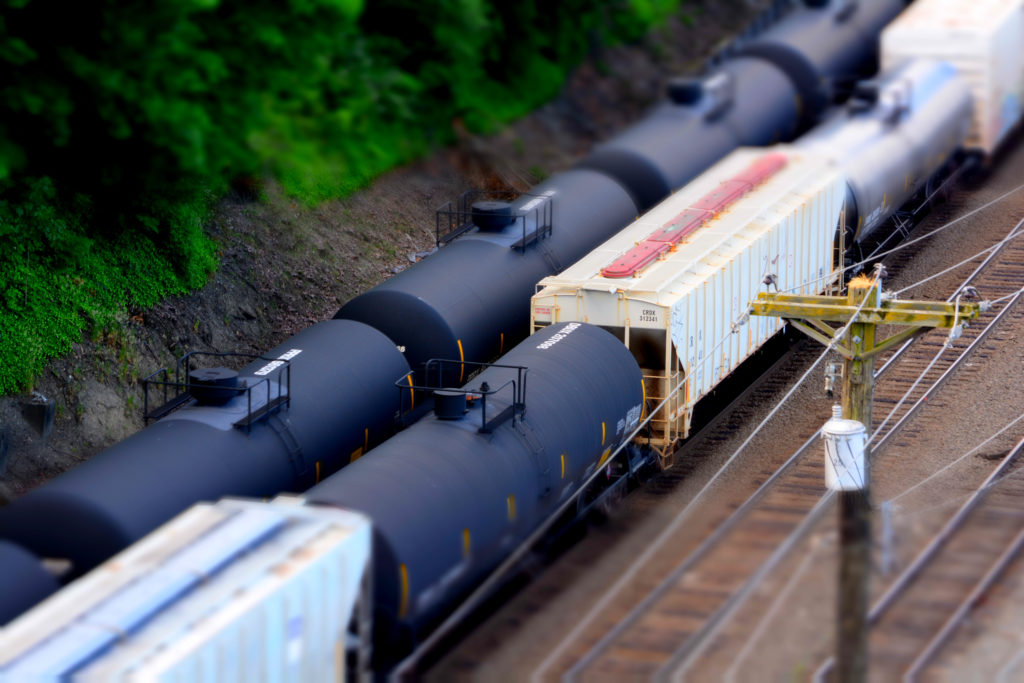 We ran a 24 hour baseline to get a snap shot to get a count of the fossil fuels coming in and out of the port. Thanks to dedicated people willing to all day and overnight, count trains, and note their placards.
A unit-train is over 100 cars. We counted 5 unit-trains of coal, and five of oil cars, making over 500 cars of each in a 24hr period.
In addition, we saw many smaller quantities of toxic compounds moving through our community: hot asphalt, hydrochloric acid, sulfuric acid, and adhesive vinyl.
Petroleum products sited include: gasoline, diesel, petroleum "distillates", ethanol, and crude oil.
Thank You
Thank you to every volunteer who brought their heart and soul to the work this year. You are precious!
Thank you to all community members who donated money! It means a lot to us when anyone contributes to our share mission.
A special thank you to the Mary E. Nolting Family Foundation for providing the money and inspiration to dream big and rent the community space!
Another big thank you to the Power Past Fracked Gas coalition for a generous grant to support the community space as well as to 350.org for a Climate Strike grant in September.