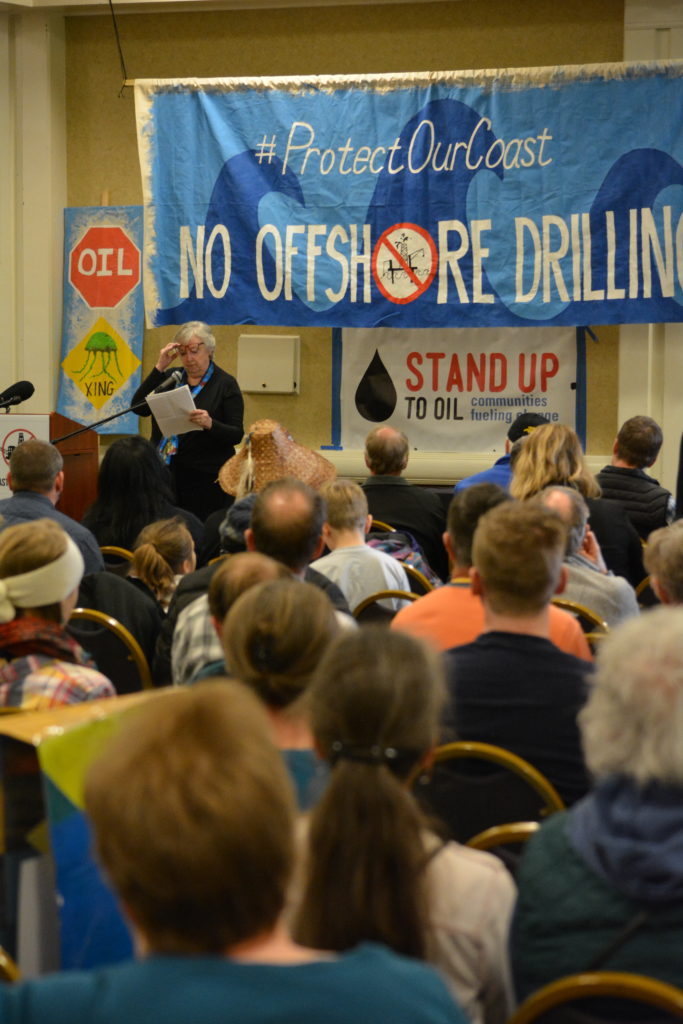 On Monday a coalition of groups led by the Surfrider Foundation and Sierra Club, and including 350 Seattle and Tacoma, held a People's Hearing on Offshore Drilling in Olympia. The event, held in a room adjacent to the Bureau of Ocean Energy Management's "Public Meeting," provided an opportunity for actual public participation and testimony. The BOEM event, on the other hand, had people filing past industry propaganda and submitting comments on laptops.
The People's Hearing was opened by a beautiful song and remarks from representatives of the Nisqually Tribe, Hanford McCloud and Willie Frank III. Mayor of Ocean Shores Crystal Dingler (who passed a resolution against offshore drilling) then emceed the event and introduced the keynote speakers. First up was Attorney General Bob Ferguson who reiterated his vow to sue the federal government should they attempt to carry out offshore drilling. Then came Hilary Franz (Commisioner of Public Lands), Kevin Ranker (State Senator) and a few coastal business people.
Over the next few hours people from all over Washington State took turns at the microphone to voice their opposition to offshore drilling. Many pointed out that we can't continue pulling carbon out of the ground and putting it in the atmosphere and others reminded listeners that even the search for oil is deadly to marine species of all kinds, particularly cetaceans (dolphins and whales). A particularly poignant moment occurred when a woman wished to read a "letter of apology" to her grandchildren but was so overcome by emotion a friend had to take over. The letter apologized for not having done enough to stop the environmental destruction that they would have to live with.
Even if you couldn't make it down to Olympia, you have until March 9th to submit comments against offshore drilling online. Please take a moment to speak for the oceans, for marine wildlife, and future generations!