Expanding capacity of the currently existing Kinder Morgan pipeline
would allow one million barrels per day
of the dirtiest tar sands oil to be trafficked across our waters
and then processed at refineries in Washington, California, and Asia.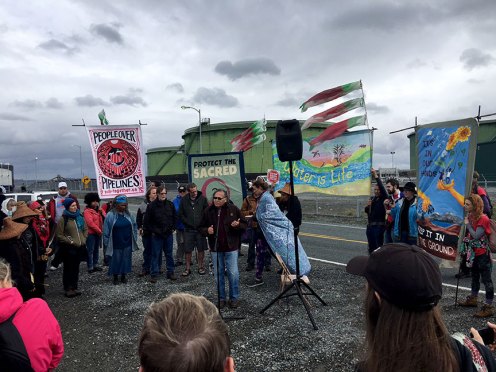 Thank you to the organizers of the powerful Oil Free Salish Sea walk and rally at March Point (unceded Swinomish territory) near Anacortes on Saturday, October 7, 2017. We stand in solidarity with Protectors of the Salish Sea and other indigenous organizations, Canoe Families, 350 Seattle, Mosquito Fleet, and all people who love the Salish Sea, in our efforts to STOP Kinder Morgan's Trans Mountain pipeline.
Kinder Morgan's pipeline and tanker project poses unacceptable risks to our oceans and waterways, our climate, local economies and communities. It must never be built and First Nations have vowed to stop it in court. People, businesses, and communities are raising funds to support the cases and stop this pipeline. Please click here to donate to this extremely important cause.
Our friends from Native Daily Network, Independent Two Spirit Media, and others were there covering the event. Check out their pages for more great photos and live streams.
Here's more research and background info
If Canada Ups Its Oil Shipping, Should We Worry?The Tar Sands Threat to Northwest WatersAn Oil Pipeline Expansion in Washington?