MANIFESTO
350 is the safe upper limit of carbon dioxide in the atmosphere, measured in parts per million, above which the planet is in a state of climate crisis. Our work is to reduce dangerous carbon emissions by building a grassroots movement, moving away from fossil fuels and harmful land use practices, and helping jump-start a clean energy economy–and in the process, transforming our world into a livable, joyful and just place. We seek to embody the following principles in our work together:
We are part of a global movement of citizens working to solve the climate crisis. We are global citizens organizing to transform our local communities. Working in solidarity across languages and continents, we form a powerful worldwide network united by our common humanity and our commitment to solving the climate crisis.
We strive to build an inclusive and empowering movement. From the local to the international, we are open and receptive to new ideas and initiatives, and empower new leaders to take them on. From faith groups to business leaders to schools and more, we work with a diversity of groups and individuals because we urgently need everybody's ideas and  commitment to create the change we need.
We are committed to real action, not just talk. We work quickly and efficiently, and share the work with others; there's no place for ego in organizing, so we say "yes" as much as possible. We strive to stay flexible, nimble and to do a lot with few resources, so we can focus on taking action to serve our communities.
We think and act to scale with the problem. Thinking big and being ambitious in our campaigns at all levels is not only what is needed to confront the climate crisis, but is also more effective in inspiring people to join us and gaining momentum.
Creativity is the touchstone of our work. Through symbols, art and creative actions, we help visualize both the problems and the solutions to climate change for our communities, the media, and our leaders. Creative ways of communicating often speak more directly to our hearts, and provide a beautiful reminder of what we strive to protect.
As organizers, we connect with the heart and soul as much as we connect with the brain.  The climate crisis is an ethical issue; taking action in a meaningful way brings moral weight to our work and deepens our commitment to the cause and each other. Through this connection we are better able to cope with our dramatically changing planet, and imagine the world we want to build.
Any movement that isn't fun isn't worth being a part of. We dance, sing, eat, play and tell jokes together because it lifts our spirit, gives us hope, and keeps us motivated for the many challenges (and victories) ahead of us on the road to a sustainable, clean energy future.
We creatively use technology to support organizing in the real world. We realize technology is not a replacement for real relationships or time-tested organizing techniques, but it can help catalyze our movement in new and exciting ways if applied creatively, and with a human touch. Technology allows us to see, understand and act in solidarity with one another to face climate change around the world; we are a community linked by technology.
We're not experts, but we know enough about the climate crisis to speak the truth. We keep up with the science and the politics as best we can, but we also know we don't need to know every bit of information to stand up for our future. We recognize that speaking the truth on science and injustice is both our responsibility and our most effective strategy.
While science is important, stories make our movement powerful and human. We communicate with stories to gain media coverage, to amplify our cause, and to reaffirm our common humanity. Whether it's the Standing Rock Sioux uniting over 200 Native Tribes to stop the Dakota Access Pipeline, or the thousands of Tacomans who stood up and said NO to the world's largest methanol refinery, shared stories inspire our movement.
We use nonviolent means to achieve change. We are committed to nonviolence, inspired by the spirit of Gandhi and Martin Luther King Jr., as embodied by the Standing Rock Sioux and other peaceful protesters before us – no violence, no property damage. As articulated by our allies at Peaceful Uprising: "We recognize a nonviolent movement as the most effective means of creating a just and healthy world."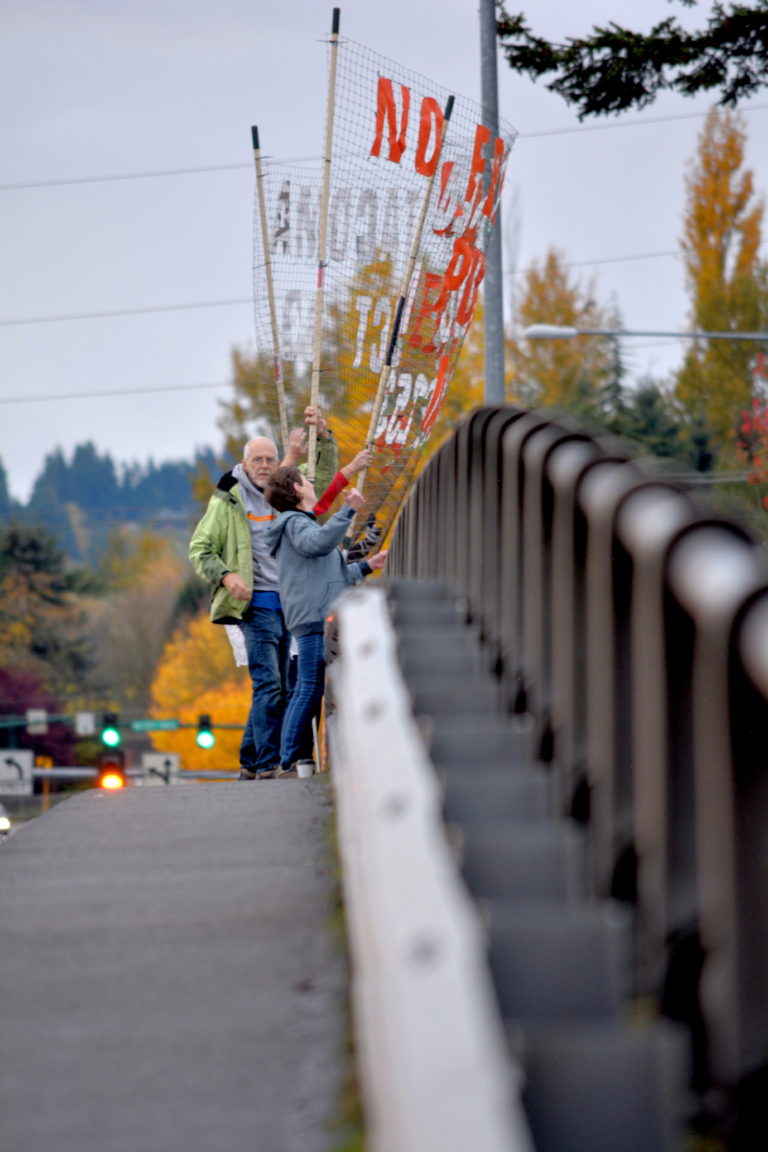 PRINCIPLES
Climate Justice is Social Justice
People's lives depend upon a healthy environment and yet the devastating impacts of climate change are magnified in vulnerable frontline communities. To achieve climate justice, we must listen to the communities who are getting hit the hardest—the poor and working classes, rural communities, communities of color, and indigenous peoples—and follow the leadership of those who are on the frontlines.
Climate injustice is perpetuated by a corrupt system in which money and power are consolidated in the hands of a wealthy elite. To solve the climate crisis, our work must challenge the underlying intersections of racial, social, and economic inequities.
A Fair and Just Transition from Fossil Fuels to Clean Energy
The science is settled. In order to save our planet from climate catastrophe, we must immediately halt new fossil fuel development and finance a just transition towards a 100% renewable energy economy. This transition won't be easy or without challenges, especially for those whose livelihood is dependent upon fossil fuel industries. But addressing the climate challenge is more than simply mitigating the devastating consequences of our dirty energy economy. We need to also re-organize our society, our economy, and our politics in such a way that our institutions serve people, rather than corporate interests.
A clean energy economy can produce economic vitality in the present without destroying the future. It can produce shared prosperity, by reducing the concentrated economic power of the fossil fuel industry, investing in communities, creating good well-paying jobs, and increasing reliance on local resources.
We're Stronger When We Collaborate
Climate justice isn't just an environmental issue, or a social justice issue, or an economic issue—it's all of those at once. It's one of the biggest challenges humanity has ever faced, and we're going to have to work together to solve it.
That means bringing people together—not just environmentalists, but indigenous peoples, students, workers, labor unions, business owners, faith groups, universities, elected leaders and more—and building diverse coalitions that are strong enough to put pressure on governments and stand up to the fossil fuel industry. We acknowledge that collaboration is sometimes messy and imperfect, but we seek opportunities to align with individuals and organizations who share our values.
Direct Action and Mass Mobilizations Make Change
By now, it's obvious that we can't rely on leaders to solve the climate crisis alone. We need to get out in the streets and make our voices heard—that's how we demonstrate our power as a movement, and that's how we force our governments to make the right decisions. We embrace direct action over ambivalence, hope over despair. We stand united with our allies around the world and say: "We are not drowning, we are fighting!"