Dressed in white doctor's coats, volunteers from 350 Tacoma paraded a 16-foot wide pair of glasses from 311 Puyallup Avenue to Tollefson Plaza, handing out 200 flyers to curious passersby. Playing the role of concerned optometrists, the group hopes that the glasses will address the City Council's short-sightedness when it comes to taking action on the climate crisis.
It has been nearly two years since the City Council declared a Climate Emergency (Resolution 40509) and while they have considered justice while revising the City's Environmental Action Plan, no real steps have been taken to avert the crisis or halt fossil fuel expansion.
Most recently the City Council narrowly missed passing a set of "non-interim regulations" drafted by the City's own Planning Department by a vote of 4-5. These regulations would have banned fossil fuel expansion and lasted the duration of the Subarea Planning Process, which is basically a re-zoning of the Port.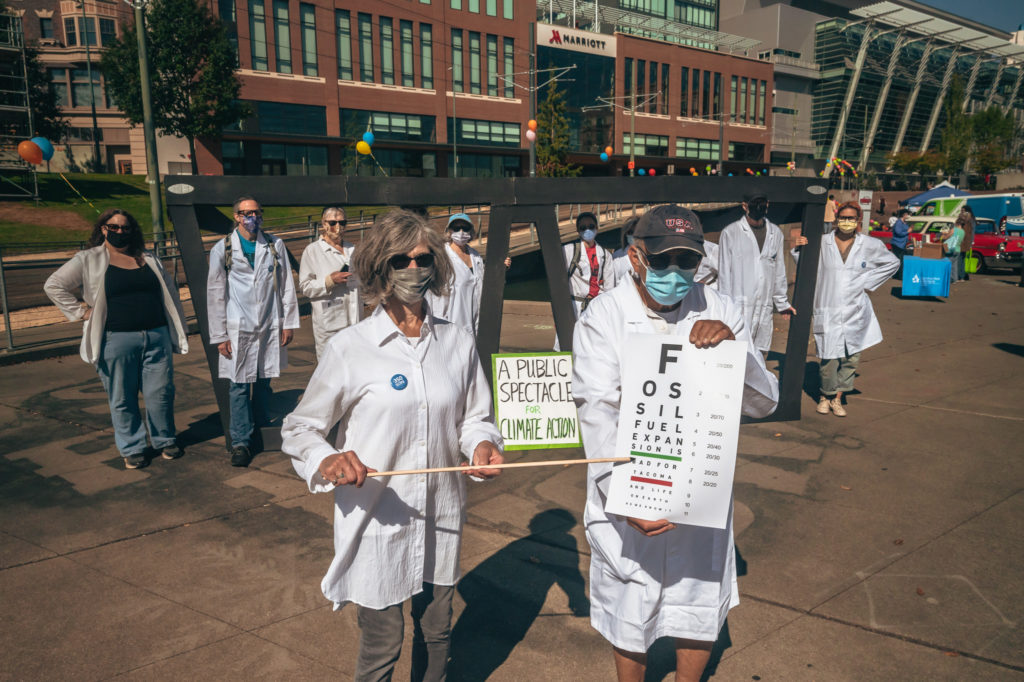 350 Tacoma is grateful to Mayor Woodards and Council Members Beale, Walker and Ushka for voting for the stronger regulations. Unfortunately, after being one vote shy, the Council then decided to pass the proposed regulations on to the Infrastructure, Planning and Sustainability Committee where some council members are proposing amendments to weaken the regulations.
Puget Sound Energy is using their political clout to insert an amendment that would exempt maritime fuels from any limits on expansion, convenient for their new fracked Liquefied Natural Gas facility that is still being built on Puyallup Tribal land without their consent.
Some council members are falling for fossil fuel industry front groups and propaganda. Council Member Lillian Hunter was apparently duped into thinking that Bill Adamson with the South Sound Military Community Partnership was a spokesperson for JBLM and the Department of Defense and she was claiming that JBLM would "move" if Tacoma banned fossil fuel expansion.
"We hope that these glasses will correct the City Council's collective short-sightedness and help them see the writing on the wall – fossil fuels are a dead end, both for Tacoma and humanity. Scientists say we need to start switching to green, renewable energy immediately and rapidly. This is a huge opportunity for green jobs and a better future for Tacoma if we just seize it soon enough," said 350 Tacoma volunteer Janeen Provazek.
"In creating this public spectacle, we hope to engage the public and encourage them to contact their council members and demand real action on the climate crisis. We are ready to support and follow any of our City leaders who see clearly enough to ban ALL fossil fuel expansion. No exceptions," said Eileen Newton, another 350 Tacoma volunteer. "If Whatcom county can pass a ban, we can here. We are the City of Destiny, and our destiny is green."